Industry Talk
Regular Industry Development Updates, Opinions and Talking Points relating to Manufacturing, the Supply Chain and Logistics.
A FOCUS ON FLEET MANAGEMENT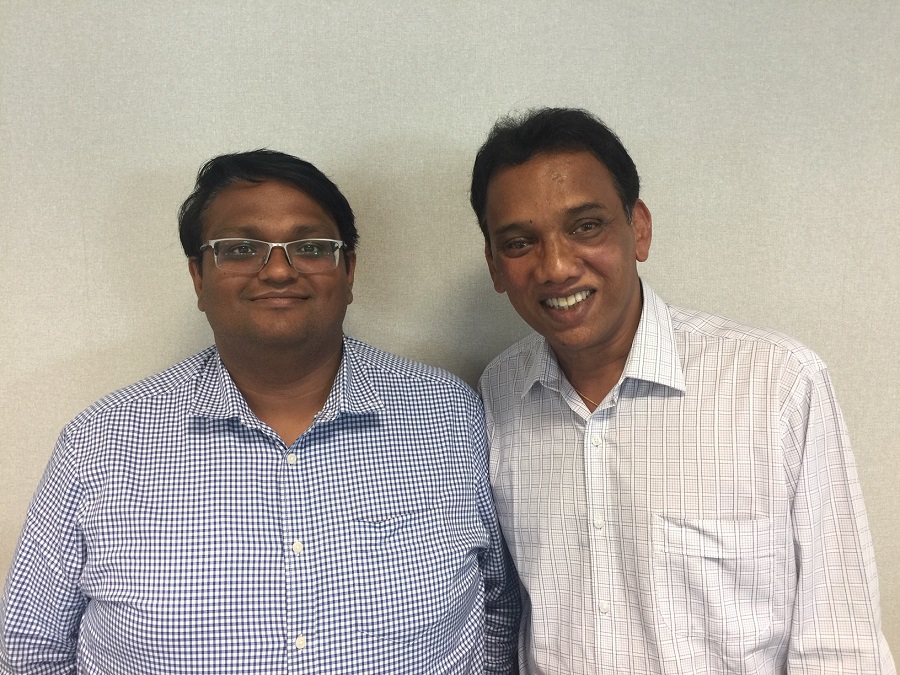 Abstract
Fleet Management is an integral function for companies that are engaged in or rely on transportation in business to efficiently manage their operations. Depending on the industry being serviced – Manufacturing, Retail-CPG, Energy & Resources, Transportation etc., an organization's fleet can consist of motor vehicles, rail cars, ships and or aircrafts.  Key goals of a fleet management organization is to optimize the overall cost of transportation, improve fleet utilization & manpower management, meet the legal and regulatory requirements and provide visibility into the transportation status – while delivering the desired levels of service to their client.
Introduction
Fleet management encompasses a wide range of activities that can be broken down into 2 segments –
Strategic elements of Fleet management that involve determining the size and type of fleet, vehicle financing, organization strategy, risk management, compliance and consulting
Execution elements of the fleet management that deal with

Improving Operational Efficiency – optimized routing, telematics, driver management, speed, fuel management etc.
Vehicle Maintenance – servicing, replacement, lifecycle management etc.
Commonly, fleet management refers to the latter here a vast array of telematics solutions are used to improve operational efficiency, especially for trucks and vans. Implementing a fleet management solution provides many benefits like
Reducing cost of operations
Ability to monitor assets across the network
Improve fleet utilization
Reducing empty miles and increase revenue from backhauls
Increase driver productivity
At a cursory glance, there appears to be a fair bit of overlap in functionality of the Fleet Management and Transportation Management Systems. However there is a fundamental difference between the two – TMS systems are typically used for load planning and execution for shipments tendered to third party carriers while Fleet Management systems are used to manage fleet operations. They are in fact complementary to each other with features like fleet planning, assignment, route optimization functions common in both.
While both systems are essential, especially for large transportation oriented companies, most organizations pick a system that is most suitable for their needs or maintain disparate systems with some integration. As the boundaries begin to blur and technology improves, the desire for unified system that manages both functions is gathering momentum.
Digital Forces in Fleet Management
Fleet management activities in early days was a reactive activity – with drivers logging in the hours and miles after a trip, static routing and manual maintenance scheduling.  In fact, the use of excel sheets and other non-digital tools is still prevalent in industry today.  Some common challenges that are faced by companies are
Lack of communication between the supply chain office and the driver
Lack of visibility in inventory, orders, assets during transit
No live data to monitor or measure the vehicle and driver performance (safety, efficiency route deviation etc.)
A vague information about the estimated time of delivery
Ever changing Turn Around Time and Empty Miles
Unsafe or inefficient driving resulting in higher fuel consumption and reduction in part lifecycle
Compliance violations including carbon emission standards
The ability to apply digital technology to resolve some or all of the aforementioned problems is the only path forward.  These include the use of
Employing Big Data and Business Intelligence tools to analyze data into actionable decisions
Use of cloud technology to save operations cost and faster processing
Use of IoT devices such as Real-time monitoring & controlling of Vehicle & Driver parameters with automated alert mechanism
Operations and customer service excellence via Mobility features
Per Ken Kaupilla [1] , CIO, Merchants Fleet Management  " The consolidation of data and the ability to transform it into meaningful and actionable information requires specialized skillsets that separates the elite analytical companies from the rest of the pack." For fleet managers, this involves spending time in collecting disparate data on various parameters and then cleanse, organize, link the data to develop meaningful analyses which used to be time consuming.
The introduction of solutions with features like GPS tracking, data logging, and connectivity to a central network for real-time data transfer and data communication have made collection of information much easier. With the availability of data and advanced analytics, the increasingly complex task of managing operations of commercial fleet-based companies is becoming more and more manageable. The relative ease of implementing such solutions take the pain away from CIOs from developing solutions.
(Figure below/Figure 1) [2] depicts the benefits of GPS Fleet Management. It is evident from this survey that customer experience is in the top 3 benefits achieved.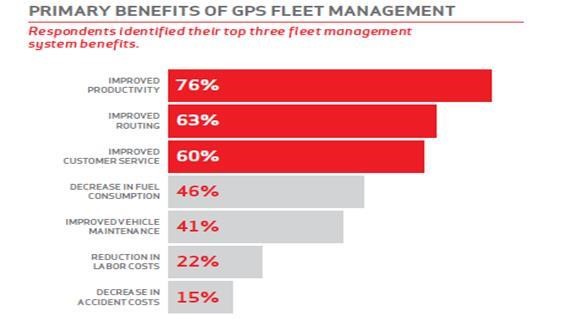 Figure 1: Benefits of Fleet Management
"Technology makes the entire system much simpler and adds value to organizations in this completive market. Internet of things through digital technology along with advanced data management gives better feedback to fleet management companies in terms of cost management and service level industry as they come up with more accurate solutions to the challenges "says CEO of ALD Automotive, Survajit Karmakar [3].
Market Opportunities and Solution Providers
 The market size for fleet management is estimated to grow [4] from USD 9.54 Billion in 2016 to USD 27.90 Billion by 2021, driven by factors like increasing maintenance costs, fuel consumption, regulatory compliance and driver safety. Asia Pacific market has a huge potential in terms of solution adoption whereas the focus for comparatively mature markets like North America and Europe will be on innovation. Most of the global growth is expected to be driven by cloud based/IoT based solutions offered as a service, especially for small to medium companies.
Figure 2: Market Potential for Fleet Management Solutions by 2020 [5]
There are multiple vendors who provide varying levels of fleet management capabilities and services across the world.
Verizon Communications (U.S.), Trimble Navigation Ltd. (U.S.), Tom Tom Telematics are some key providers of commercial Fleet Management solutions
ERP vendors like SAP, Oracle, and Microsoft also have modules that enable some fleet management functionalities, typically via the transportation and field management services modules
Vehicle manufacturers such Volvo, Mercedes, Renault, and Scania offer core telematics features in select vehicles & specific regional markets
Companies like FedEX, UPS etc. which rely heavily on transportation often use customized home grown software to track and optimize their fleets
However, there is no solution provider with a significant global market share. This can be attributed to difference in the rate of adoption of technologies and the need for and knowledge of local environment for last mile deliveries.
Choosing the right solution
While the adoption differs by the type of industry and region, the largest users of fleets typically are Utilities companies, transportation service providers, e- commerce companies, construction companies and educational institutions. They are with many challenges, some which are quite specific to their nature of business
For E- commerce and retail companies, dynamic routing, temperature control (cold chains) and visibility into transit status & ETA are important
For utilities and construction companies, the focus would be on fleet availability and mobility
For long haul transportation companies, driver safety, fleet utilization, pilferage prevention and vehicle maintenance status would be of focus
For government and educational institutions, the ability to track and secure vehicles is a key consideration
One of the first decisions an organization that uses a fleet has to make is the choice of owning and operating the fleet, spinning off the fleet operations as a separate entity or making the use of a transportation service provider. Depending on the complexity of needs, each of the options must be considered and evaluated. Often companies try to spin off and established fleet operations as a separate entity depending on strategic, operational and legal considerations.
While selecting the software, a careful assessment must be made of the functionalities needed for that industry against what is available in the market. One also needs to consider the various options on installed or cloud based services, solution providers with their own integrated hardware or working with different hardware and software providers and integrating them, the choice of the wireless carrier etc.
TCS has experience in advising clients on the strategic and execution aspects of implementing fleet management services. With as assessment framework then enables selection of suitable software for business, TCS has an IoT based fleet management solution that can be implemented quickly and efficiently.
With the proliferation of technology and connectivity, Fleet Management is a supply chain need across several industries verticals and a growing business. Organizations are deploying fleet management services with cloud-hosted services emerging as the most popular options for small to medium business. With cost effective solutions available with varying capabilities even companies with small fleets should consider leveraging the benefits that these solutions can provide.