Automation & Digital Transformation
Automatic equipment in a manufacturing, warehousing and distribution, Industrial and Autonomous research robots, Robotic process automation (RPA) and other processes or facilities.
Apprenticeships Help to Create a Stronger Workforce to Implement Automation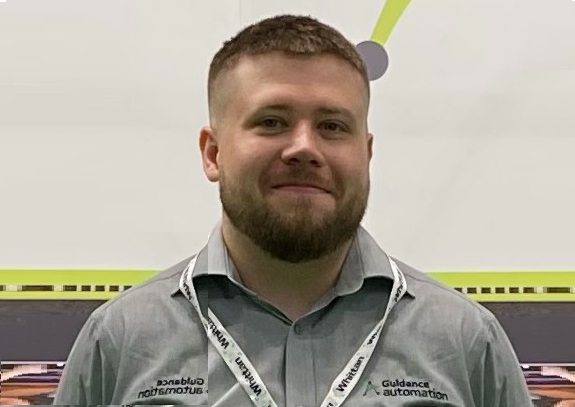 This week is National Apprenticeship Week in the UK, which is the 16th annual celebration of apprenticeships. The week aims to shine a light on the positive impact that apprenticeships make to individuals, businesses and the wider economy.
Particularly in the manufacturing sector, the make-up of workforces and career routes into the industry is evolving in line with business priorities around digital transformation, technology and automation. Employees that are skilled and technologically capable are key to a business' future growth and success. However, preparing workforces for a digital future is crucial, and, if this can be done starting from apprentice grades, students will be able to enter the developing field of automation with a head-start.
Simon Brown started his career at Guidance Automation, a provider of automation solutions for small to medium businesses, back in 2010 as a Production Apprentice, as an alternative to what was – at the time – considered a more traditional university route. He explains: "After getting my results, I didn't want to go into a job that I didn't necessarily want. Instead, I sought after an apprenticeship in manufacturing by myself, as apprenticeship pathways were not mentioned or advertised in school."
During his three-year apprenticeship at Guidance Automation, he was exposed to various areas of the business; from purchasing, to quality control and customer services. Commenting on the skills and experience he gained from the apprenticeship, Simon said: "I learned a lot about the importance of paying attention to the various processes involved in manufacturing. I also learnt that it is worth constantly evaluating what you're doing and why you're doing it, which has quite a broad application to other sectors of business beyond the production line."
His apprenticeship also opened a door for Simon to complete a sponsored degree through Guidance Automation at De Montfort University in electronic engineering, which he did part-time whilst continuing to work for the company: "My main interests lay in electronics and engineering, and it is what made me want to go into working at a manufacturing business. From my apprenticeship, I gained numerous skills which I wanted to continue to build on. During my degree, I learnt a lot around project management as well as higher-level engineering techniques, but for me, my degree added on to what I had already learned from my apprenticeship, and gave me skills that I'm still using today."
Since July 2022, Simon has transitioned from an engineer role to the title 'Technical Sales Engineer', in which he continues to apply the skills and knowledge gained from both his apprentice and degree: "A lot of the people that I'm potentially selling to are production lines or manufacturing sites. Because I've gained a vast amount of knowledge from the entry level up, I can easily identify where best to approach people when selling them ideas and products. In my role, I still have to think of things from an engineering perspective, which is where my degree and apprenticeship skills come into play."
One of the key benefits that Simon has found from his apprenticeship and career at Guidance Automation is the ability to work across several areas of the business, gaining experience and knowledge in different roles: "There is a lot of value to take away from learning multiple parts of a company. Especially as an apprentice, I feel like you end up as a more well-rounded employee because you understand various aspects of the business and interact and work with different people."
Simon identifies that in his line of work, he has recognised a difference in enthusiasm surrounding automation: "People who are at the lower end of the workforce are intimidated or scared by automation, because they feel that it is going to replace them, instead of it being something that they can work with. It is crucial that we educate people on how it can benefit them through workplace training or education to help remove those fears."
Additionally, with a lack of degrees specifically in automation or manufacturing technology across the United Kingdom, Simon recognises the value of apprenticeship training for this industry: "Having more people trained in a vocational style will benefit the manufacturing industry more, as apprenticeship schemes may actually help to create a stronger workforce to implement automation technology. Having a more practical understanding of automation rather than a theoretical one will help to give students a better chance of entering careers in automation."
For Simon, an apprenticeship with Guidance Automation gave him the additional qualifications he needed to open the door towards a degree – which was then funded for by Guidance Automation, where he has remained and grown within the company over 13 years. Simon's advice for anyone in a similar position to him is: "Even if you don't necessarily want to stay with a company for ten years plus, an apprenticeship is a great way to get the qualifications you need, to build experience, and act as a stepping stone to achieve the career you want. I would recommend the apprentice-pathway to anyone who wanted that hands-on experience."