Mobile Computing
Mobile Computers, Handheld, Rugged, Wireless (Wi-Fi), GSM and GPRS enabled PDAs and Industrial Computers.
CC Infrastructure Automates Field Services with BigChange Mobile Cloud Tech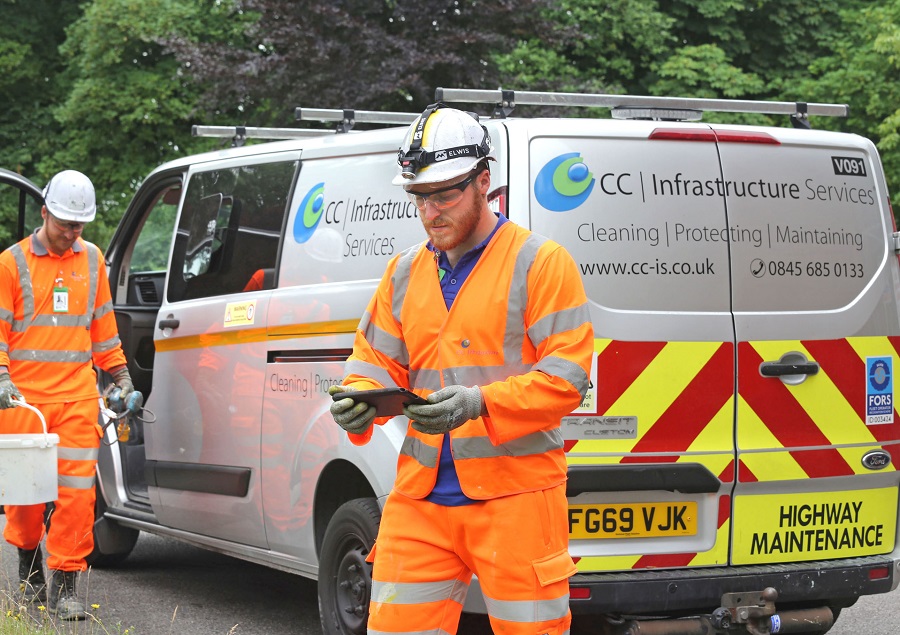 CC Infrastructure Services (CC-IS) has rolled-out a cloud-based mobile workforce and job management system from BigChange. Specialising in surface cleaning, preparation and industrial coating for essential infrastructure, CC-IS has reduced the operations administration by 20 per cent, cut its waste by 50 per cent and has saved 10 per cent on fuel costs.
Since implementing BigChange, which incorporates a mobile workforce app, customer relationship management (CRM), job scheduling, live tracking, financial management and business intelligence, CC-IS has virtually eliminated paper from its mobile operation. This has allowed the company to deliver more projects with the same administrative resource, supporting growth and meeting customer service levels.
Field service teams are equipped with mobile devices coupled with vehicle tracking and CC-IS now provides clients with a detailed digital job card, including before and after photographs, providing evidence of completed works in virtual real-time. This speeds-up invoicing, reduces queries and therefore improves cashflow. If additional work is flagged whilst a team is onsite a quote can be calculated, shared and agreed without additional downtime.
"Prior to BigChange our entire mobile operation was paper-based," commented Andy Izzard, Technical Director of CC Infrastructure Services. "We produced weekly folders with hundreds of worksheets which were driven from our Head Office in Dorset to our Primary Operations Depot in London. Each regional team would then collect their paperwork, together with any equipment or material required, before distributing to the relevant crew. Completed Project Folders were dropped off at the same time before making the return journey down the M3 for client invoicing and payroll.
"This whole process took around 8-man days not to mention 2 reams of paper and around 900 miles!" he continued. "Using BigChange, all worksheets, timesheets, delivery notes, expenses claims, fuel receipts, etc. are produced with just a few clicks and electronically transmitted in a matter of minutes."
BigChange is also helping CC-IS improve day-to-day efficiencies within its warehouse. Notifications of defective equipment are automatically sent via a worksheet, together with supporting photographic evidence, allowing for the timely purchase or hire of a replacement. Likewise, requests for additional items can be automatically placed and stock levels adjusted accordingly.
Health and Safety is a priority at CC-IS and compliance is mandatory. Using the BigChange app, operational teams are guided through risk assessments and other H&S paperwork whilst on-site. The flexibility of the BigChange system means CC-IS can adapt worksheets and other paperwork to its own processes and procedures, ensuring continued compliance with accreditations for ISO, RISQS, Constructionline and CHAS. Driver and vehicle management tools, including real-time tracking and behaviour or location triggered alerts, allow CC-IS to set and report on driver KPIs and maintain its Silver Fleet Operator Recognition System (FORS) rating.
"We were recommended BigChange and once we had seen the way it could impact our business we haven't looked back and we in turn recommend it to other businesses," Andy Izzard continued. "One of the real benefits of BigChange is the flexibility to make it our own; our previous system didn't allow us to customise workflows or documents without a huge cost and a significant time delay but BigChange is different. With BigChange we own our processes and procedures rather than them owning us."
CC Infrastructure Services started life in 1998 as Container Trak Ltd specialising in industrial bin maintenance and repairs. In 2007, brothers Andy and Martin Izzard launched Community Clean as a standalone business. Having gained National Highway Sector Scheme (NHSS) and Rail Industry Supplier Qualification Scheme (RISQS) accreditations, the company was awarded a number of milestone projects including the London Bridge Station redevelopment programme, Kier Surrey Guildford Bridges contract and a surface protection project at the Tottenham Hotspurs Stadium, before rebranding to CC Infrastructure Services in 2020.