General News
General Supply Chain News
eneloop Writes a new Chapter in its Story of Clean & Sustainable Energy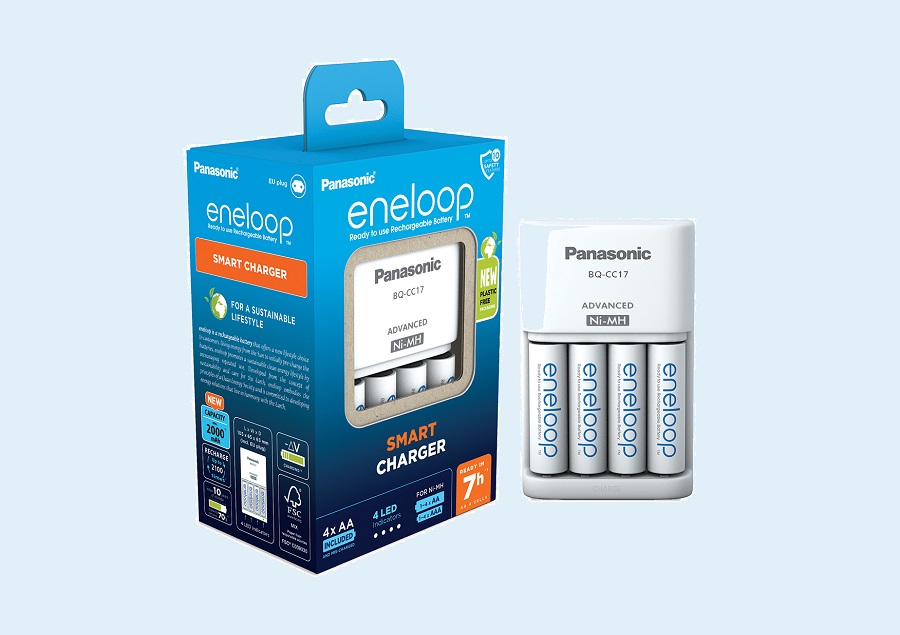 eneloop is a rechargeable battery offering new and improved sustainable packaging and enhanced performance. These batteries are pre-charged using solar energy and can be recharged up to 2,100 times1 – even keeping 70 per cent of their charge for up to ten years2. Developed with the concept of sustainability and care for the Earth in mind, eneloop embodies the principles of 'recharge' and 'reuse' by using energy from the sun and encouraging repeated use to help establish a clean energy society.
From today, eneloop presents its customers with more options to have a better performing zero emission battery.
"A zero-emission battery is what we are ultimately aiming for", says Silvia Scheers, Brand Manager eneloop at Advanced Power Solutions. "Our next step is a greener packaging range for all eneloop batteries and chargers. Using hard plastics is something that our industry needs to stop doing. At the same time, we want to keep improving even further in terms of quality and performance. It is that goal that keeps us moving forward and that has inspired us to introduce these new improvements."
The first improvement is a new, fully-cardboard and 100% plastic-free wrap for our batteries and chargers that serves both as packaging and as a base for our FSC® Mix Label and our 'Sustainable Lifestyle' messages. The chargers are now also presented in a completely plastic free packaging3.
The second improvement is a performance boost to the best-selling eneloop battery. The minimum capacities4 have been raised to deliver between five and seven percent more battery life for both battery types. This has been achieved by increasing the milliamp/hour (mAh) on the AA batteries from 1,900 (mAh) to 2,000 mAh and from 750 mAh to 800 mAh on the AAA batteries. These improvements will, as an example, give users between 600 and 1000 hours more gaming or listening to the radio5 time.
These are complemented by packaging that carries clearer communication to the consumer. The new eneloop packaging designs ensure that the features and benefits of the different grades and ranges are clearer for the consumer. The charger packaging flags up the built-in safety features (such as overload protection, overheat protection, short circuit protection …) and the new name and colour coding help customers to differentiate between different technical charger functionalities.
Silvia Scheers: "We feel that the best – and probably the only way – to create a healthier, better, more sustainable world is to have carbon emission reduction, performance and convenience go hand in hand. And that is exactly what our new product line and packaging are bringing into practice."
eneloop range of rechargeable batteries
eneloop pro
eneloop
enelooop lite
Main features:

-Recharge up to 500 times

-Retains 85% capacity after 1 year in storage

-Capacity min. 2500 mAh (AA) & 930 mAh (AAA)

-Environment friendly

–NEW: Full cardboard and 100% plastic free packaging

-Pre-charged with solar energy

-Superior performance at 0° (up to

-20°C)


Main features:-Recharge up to 2,100 times

-Retains 70% capacity after 10 years in storage

–NEW: Upgraded capacity – Capacity min. 2,000 mAh (AA) & min. 800 mAh (AAA)

-Environment friendly

–NEW: Full cardboard and 100% plastic free packaging

-Pre-charged with solar energy

-Superior performance at 0° (up to

-20°C)


Main features:-Recharge up to 3,000 times

-Retains 70% capacity after 5 years in storage

-Capacity min. 950 mAh (AA) & 550 mAh (AAA)

-Environment friendly

–NEW: Full cardboard and 100% plastic free packaging

-Pre-charged with solar energy

-Superior performance at 0° (up to

-20°C)

 Ideal for:

Energy-demanding appliances – e.g. flashguns, radio-controlled toys, wireless keyboards, household devices

 Ideal for:

Everyday appliances – e.g. compact cameras, video games controllers, torches

 Ideal for:

Medium to low power devices – e.g. DECT phones, TV remote control

 Sizes:

AA, AAA

 Sizes:

AA, AAA

 Sizes:

AA, AAA