Print & Label
Hello Bello Trusts Domino for Traceability Codes On 'Premium for All' Baby Products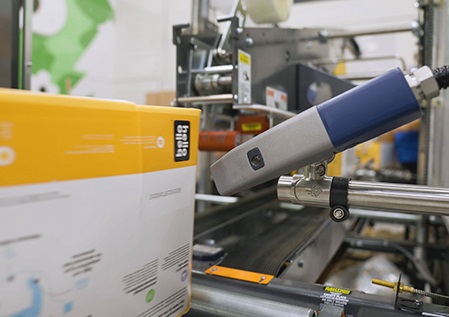 Domino Printing Sciences (Domino) is helping Hello Bello to fulfil its goal of providing 'premium for all' baby care products with reliable, low-waste, coding and marking solutions designed for product traceability through production, processing, and distribution.
Co-founded in 2019 by Hollywood celebrities Kristen Bell and Dax Shepard, Hello Bello produces premium baby care products from a zero-waste manufacturing facility in Waco, Texas. With a clear goal to provide affordable products, that are both high-quality, and eco-friendly, Hello Bello has a strict regime for selecting equipment providers to ensure that only the highest quality solutions make it onto the manufacturing lines.
"We are on a mission to provide premium products to all people at an accessible price point – from nappies to wipes, to personal care products, and even laundry detergent – and we want to do so in a sustainable way. Finding partners that can help us do that is what we are truly trying to seek out," says Erica Buxton, CEO.
Domino's coding equipment has a crucial role to play at Hello Bello, ensuring all individual nappies, multipacks, and shipment boxes are printed with the correct codes to allow for worldwide traceability with minimal production waste or machine downtime.
At the manufacturing plant in Waco, each nappy is individually coded with MEK-free ink using an Ax350i continuous inkjet printer – with a code composed of a lot number, line number, and individual product number to allow for each nappy to be assigned to the correct multipack bags and shipment boxes. Additional Ax350i printers then apply aggregated codes onto each multipack. For Hello Bello, this first step is critical because it enables product traceability through the manufacturing facility and beyond.
"A lot of people think that a nappy is a really simple item for a baby, but it is really not. These bags have different functions, different forms, and different counts. We code each nappy and each bag with a Domino ink coder running every day at 800 nappies a minute." Steven Holmes, Vice President of Technical Services at Hello Bello.
Product and bag codes allow Hello Bello to track each nappy to the individual pack. If something goes wrong, or a customer wants to congratulate the company on a job well done, this code provides all the details the company needs to know exactly where and when a product was manufactured.
"Without this code, we would have a tremendous amount of rework, downtime," continues Holmes. "Thankfully, this little guy right here [the Ax350i] is so reliable that we haven't had that happen."
Domino's offering also covers secondary and tertiary coding requirements for retail and distribution. Hello Bello installed M230i-TB print and apply labellers for applying universal product codes to multipacks and boxes – these codes are used for worldwide tracking of items shipped to retail stores. As a final step along the line, Domino's Cx350i secondary packaging printers, equipped with dual printheads, print A-grade barcodes with vegetable-oil-based ink on both sides of the outer corrugated boxes.
By equipping the Waco manufacturing facility with full product coding solutions from Domino, Hello Bello has achieved the quality and traceability required for worldwide shipping of its products, while avoiding rework and unplanned downtime.
"Domino is thrilled to have been selected as supplier of choice for Hello Bello," says Nikki Johnson, Director of Marketing, Domino North America.
"As an industrial printing solutions provider, Domino is well-positioned to support Hello Bello's mission with creative and modern solutions that not only address the need for legible traceability codes but also help to reduce waste and limit unplanned downtime."
To find out more about Domino's project with Hello Bello, please visit the website.