RFID
Radio Frequency Identification (RFID) applications in manufacturing and the supply chain.
iDTRONIC's Embedded Module: DESFire R835 : Read & Write Function for many MIFARE® & DESFire Transponder
The DESFire R835 is a new, low-cost microchip module from the Embedded Module R835 Line. The module is one of the smallest with dimensions of 3.45 × 0.58 × 0.3 cm. The integrated antenna transmits data at speeds of up to 115,200 bits per second. The DESFire R835 module is suitable for many applications within the medical sector, in vending machines for payment processing, or for  access management.
► EXCELLENT TECHNICAL SPECIFICATIONS FOR YOUR APPLICATIONS
 The DESFire R835 module is equipped with a 3.3 – 5 Vdc power supply. Furthermore, the device requires less than < 100 mA of power for successful operation. The existing TTL-based interface enables simple and fast integration into existing Windows, Linux, or Android systems thanks to its standard Molex connector.
► READ & WRITE FUNCTION FOR A WIDE RANGE OF TRANSPONDERS
The DESFire R835 module is equipped with the 13.56 MHz HF frequency. The module supports the ISO 14443A/B and ISO 15693 standards with a reading range of up to 8 cm. It can accurately read and write to MIFARE® Classic, Ultralight, DESFire, Smart MX, Plus S and Pro X transponders.
► SOFTWARE DEVELOPMENT KIT & TOOLS FOR WINDOWS CONFIGURATION
A user-friendly software development kit (SDK) and configuration tool for Windows operating systems is provided as well as an operating system-independent command protocol.
Further adjustments of firmware and hardware are possible on request and project basis.
► EXAMPLE APPLICATION: MEDICAL DEVICES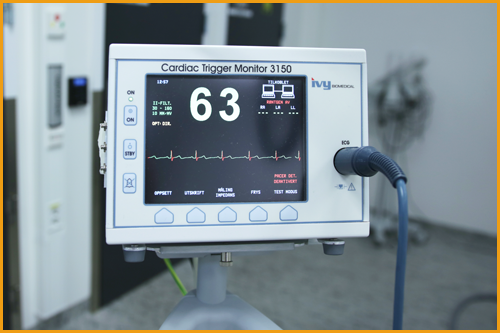 Inside the hospital room there are medical devices which are vital for the patient. These include ventilators, infusions or ECG devices. By integrating RFID readers, a wide variety of functionality may be implemented which help to increase patient safety and bring about a faster recovery.
These include, for example, automatic identification and authentication of consumables. On the other hand, it is possible to monitor which employee is operating the medical devices. Hierarchies may also be introduced for individual employees in order to avoid incorrect operation of the devices by medical personnel.
The small embedded module may be easily and quickly integrated into a range of medical devices. It can withstand temperatures and liquids of up to +80 °C without any problems. Supported standards of EN 60950, EN 62369 and EN 50364 ensure safe integration.
More Information:
The Embedded Module R835 Series contains modules with four different configurations:
DESFire, PSAM, Multi-Protocol and MIFARE®.
Product Site: R835 Series