Mobile Computing
Mobile Computers, Handheld, Rugged, Wireless (Wi-Fi), GSM and GPRS enabled PDAs and Industrial Computers.
Mobilise launches Trill Mobile to showcase eSIM potential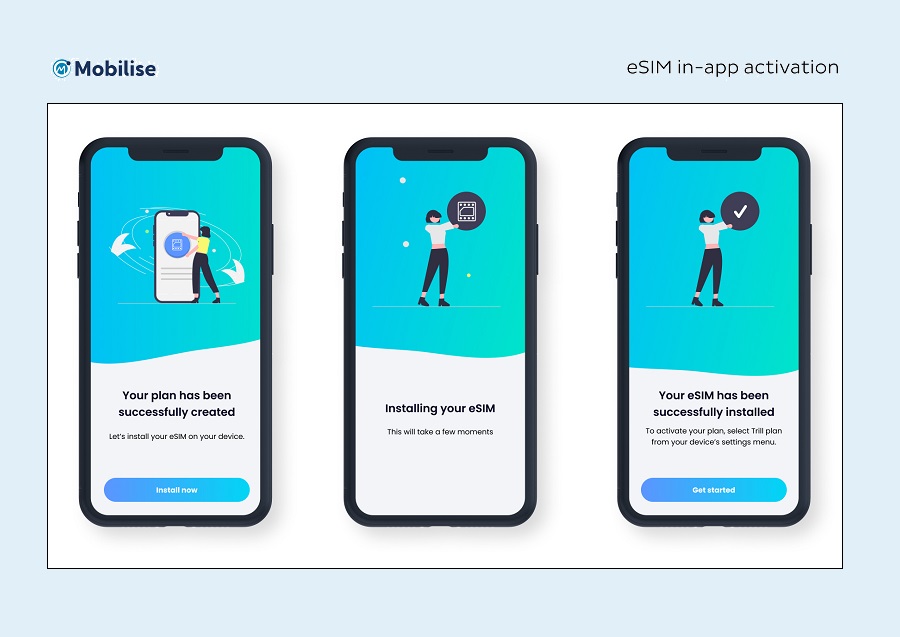 Trill Mobile delivers a fully operational prototype to show service providers how they might benefit from using Mobilise's white-labelled platform, HERO, which offers in-app eSIM provisioning — the most seamless remote onboarding for mobile connectivity.
HERO, which stands for Hub for Experience and Revenue Optimisation, is a customisable, digital business support system (BSS) platform that helps service providers to digitalise their operations while also delivering superior customer experience. It includes eSIM as a Service — Mobilise's flagship module, which supports service providers to launch eSIM capabilities to their customers quickly and easily.
To get a feel for exactly how HERO looks and feels, service providers can simply download the Trill Mobile app from the App Store, select a data bundle and country and install their own eSIM in a matter of seconds. Connectivity is available in over 200 countries, and plans are completely flexible.
Consumer eSIM has already entered the market, so the next challenge lies in scaling and ensuring widespread end-user adoption. With recent news from Apple, which took the decision to make the US iPhone 14 eSIM-only in 2022, pressure from device manufacturers to do this quickly is growing. It won't be long until other device manufacturers must follow suit and commit to the eSIM shift, and service providers need to follow suit.
The decision to adopt eSIM has already been made for service providers that want to offer subscriptions compatible with some of the world's most popular devices. It's not a matter of if they'd like to offer eSIM, but when and how they choose to do it. But to keep pace with device changes, SPs need to be one step ahead of their competitors and have a seamless, digital customer journey in place to ensure end user adoption is successful.
"eSIM is complex, with so many specifications, regulations and components to consider," explained Hamish White, CEO of Mobilise. "Add in additional elements required to make eSIM operational — a seamless digital onboarding process, eKYC and a payment system — and a successful eSIM app becomes hard to achieve without external support.
"Demonstrating the value that HERO can bring to service providers looking for support in their digital transformation has always been a challenge," added White. "With Trill Mobile, we hope to elevate our operations to provide prospective customers with a fully-fledged application that they can download themselves and see exactly how it could work for them."
"App certification from Apple is notoriously challenging to obtain. For an eSIM application like Trill, security measures and regulations make this a very controlled process," added Amr Houssein, managing director of Mobilise. "While Trill Mobile took almost a full year of App Store regulation navigation, now that Mobilise has this knowledge, we are in a position to offer advice and expertise to avoid our customers falling into some of the common pitfalls of the iOS entitlement."
Trill Mobile can be downloaded directly via the App Store by following this link. For more information on HERO and how it could support your project, visit the website or get in touch with the team here.