Transport Management
Transport Management and Technology, Distribution Management, Freight, Vehicle Routing & Scheduling Software and Load Planning.
PARAGON LAUNCHES NEW LIVE MANAGEMENT FUNCTIONALITY FOR IMPROVED TRANSPORT PLANNING AND EXECUTION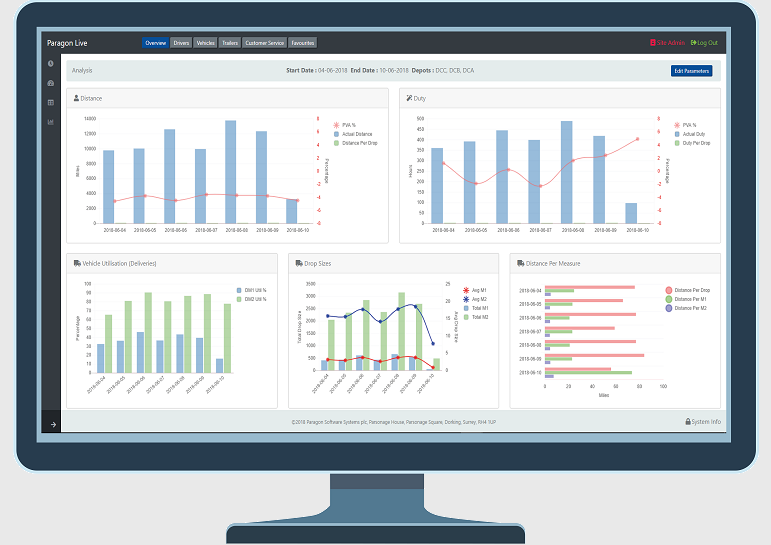 Paragon Software Systems has expanded the functionality of its Live Management software to give transport operators greatly improved visibility at every step in the planning and execution process. These latest enhancements will give users and colleagues across the business a real-time view of planned, actual and historic transport activity.
"The enhancements we have made to our Live Management software module will provide stakeholders across the business with access to vital information via a smartphone, tablet or desktop," explains Phil Ingham, Support Director at Paragon Software Systems. "In response to demand from our customers for more visibility and analytical capability, we have augmented our existing Arrivals Board and Live Dashboard functionality, and introduced two completely new components."
The functionality of the Arrivals Board and Live Dashboard components has been significantly expanded to create a transport planning and execution environment where critical data is shared across the whole business, rather than being stored in separate silos. Colleagues from sales and marketing to finance and customer services can be given access to historic and real-time information.
The new Analysis component allows Paragon's customers to gain a greater understanding of what is happening within their operations, via a wide range of transport-related metrics – including vehicle usage, planned versus actual comparisons, distance per drop and on-time performance. Interactive business intelligence charts that collate these factors can be accessed online in order to review the performance of a single site or multiple locations.
The new Route Detail component will provide non-Paragon users with functionality that provides access to transport schedules, based on a specified date range, in an intuitive and user-friendly way. The transport information within Paragon is immediately accessible via a website interface, with the added ability to drill down into the information to view depot, driver and even individual drop data, all at the click of a button.
"This is all part of our vision to bring together transport, planning and drivers to create efficient operations with enhanced service delivery," adds Ingham. "Live Management, and the increased visibility of data that it gives, is a key facilitator of 'control tower' planning, in which your best people are brought together to form a 'centre of excellence' planning team while still being able to share crucial information with any authorised person."
Live Management is one of the components of Paragon Live, which uses Route Execution to interface with one or more vehicle tracking systems. With vehicle-tracking data gathered in real-time, this enables quick and easy comparison of planned versus actual journeys, in order to help users improve real-time transport management and execution of their delivery operations.