Industry Talk
Regular Industry Development Updates, Opinions and Talking Points relating to Manufacturing, the Supply Chain and Logistics.
Automating Procurement – A Job Still Incomplete
What keeps Procurement Leaders awake at night?
Contribute to Real Value – Transforming Negotiated into Realized savings
Full Visibility – Spend, Contract, Budget, Performance
Connect Customers with Suppliers – Collaboration with suppliers
Control and Compliance – SOX, Process, Suppliers and Product compliance
What is digital from a procurement perspective – Analytics, AI, Machine Learning, Big Data Blockchain
Despite the huge progress made around areas such as e procurement, analytics, integration of ERP systems with multiple systems within organization, many leading companies continue to struggle with issues such as Fragmented disparate systems, Processes not supported by technology, Accuracy and depth of reporting, User penetration of systems, etc
Some of the key challenges around Procurement Technology can be summarized as below:
Table 1. Challenges and Impacts
Figure 1. Steps in Achieving Procurement IT Maturity
Measuring Performance:
After an organization implements technology for a particular aspect of procurement, it is equally important to monitor and measure performance. This will help insure compliance as well as justify a return on the investment. To help achieve this goal, procurement organizations should roll out easy to monitor KPI (Key Performance Indicators) that can help provide visibility and thereby enable intervention as needed. A sample list of KPIs has been provided below for reference purposes but key is to select and roll out KPIs that are easy to monitor and at the same time effective.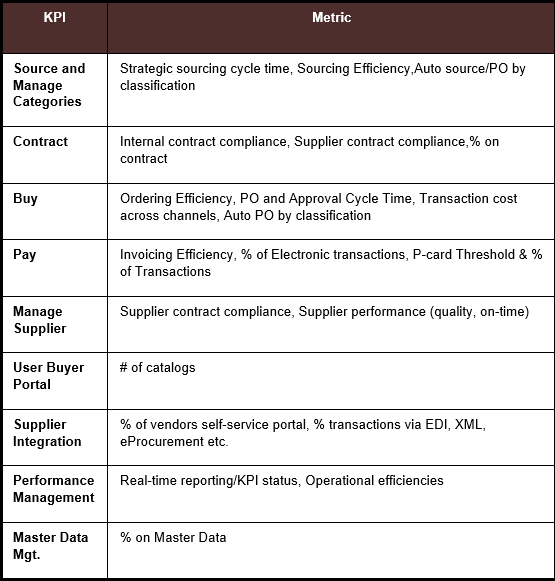 Table 2. KPIs and Metrics
To help leverage technology, a procurement organization must focus on deploying tools in the following areas:
Visibility: Full Visibility of Procurement information including Spend Visibility, Savings/Contribution tracking, Contract documents, Supplier Performance to support decision process
Sourcing : eSourcing toolset (eRFX and eAuction) fully embedded in the Category Management process
Compliance: Compliance with preferred suppliers, contracts, products and processes
Efficiency:

Paperless Source-to-Pay including invoices to reduce administrative works and errors
User friendly toolset for the end users providing self-service access to information
Automation of transactional activities increasing resource effectiveness

Collaboration: Toolset to support communication and collaboration with Internal customers and Suppliers
Control: Process control and closing the loop
Provided below in Figure 2 is a Comprehensive View of a typical Procurement IT landscape that organizations can use a starting point for reference for automating various procurement activities across the enterprise.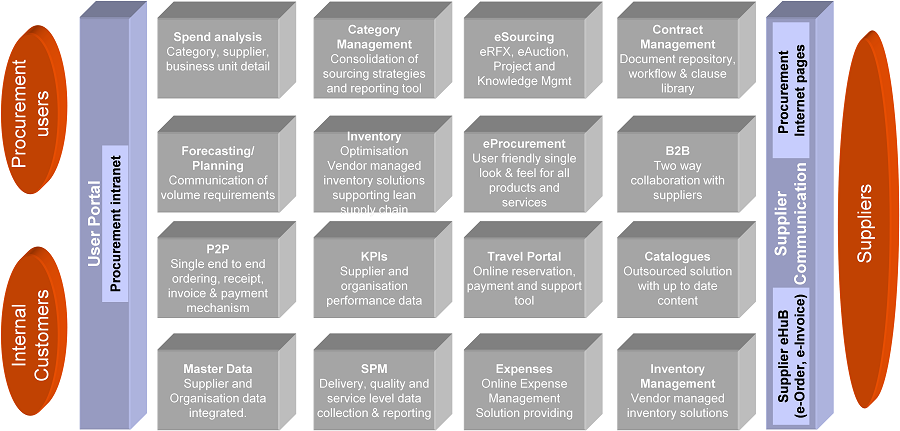 Figure 2. A Comprehensive View of a Typical Procurement IT Landscape
Final Words
Best in Class procurement organizations recognize the importance of a common and automated technology supporting requisition to payment and employ integrated platforms to achieve a high degree of procurement master data harmonization. Similarly they heavily support their sourcing process with technology to keep collaboration and knowledge sharing high. Finally they recognize the value of user friendly ad hoc reporting capabilities that allow timely reports which help drive transparency and visibility into the organization. Last but not the least, they are exploring avenues for further automating the procurement organization through the use of new digital technologies that can drive greater transparency, efficiency and cost savings as well better collaboration both inside and outside their organizations.
The exciting journey to automate procurement continues.