Warehouse Management
Warehouse Management (WMS) Systems & Software, picking, Third party logistics, Inventory control, TMS, YMS, Cross docking, Virtual Warehouse and Web based WMS for optimal stock control in the warehouse.
Doosan launches rugged electric B45X-7 Series for reliable outside performance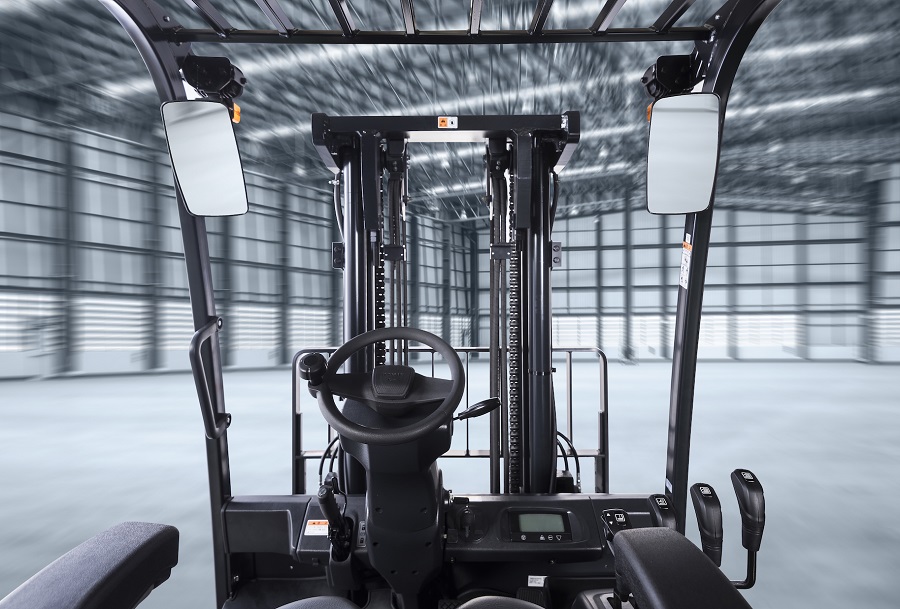 Doosan, the leading manufacturer of robust high-performance forklift trucks, has launched a powerful new range of four-wheel electric counterbalance forklift trucks, the B45X-7 Series, offering greater durability, enhanced productivity, increased visibility and an extensive range of safety features as standard.
With four new models covering a capacity range from 4.0 – 5.0 tonne, businesses across a broad spectrum of industry – from manufacturing, wholesale distribution and food & drink to engineering, building supplies and transport & warehousing – will benefit from the improved capability, power and performance of Doosan's latest mid-range electric trucks. The versatility of electric power is now available in a durable and reliable vehicle, built for working long-shifts outdoors in wet or dusty conditions – making it a viable alternative to increasingly regulated IC Engine equivalents.
Extra Durable
Durability for outside duty is assured with IP65 and IP43 rated Curtis AC controllers and motors, offering maximum resilience to water and dust. Also included as standard is Doosan's industry leading sealed, oil-cooled disc brake system, which is virtually maintenance free and lasts up to five times longer when compared to conventional shoe brakes. The sealed units protect against outside elements such as dirt, water and grit, ensuring top-rate braking performance for enhanced safety and increased productivity.
Enhanced Productivity
With a tighter turning circle than its predecessor, smooth and responsive acceleration, and a conveniently placed direction switch on the hydraulic control lever for switching direction of travel quickly and easily, the all-round performance of the B45X-7 Series promises a boost to productivity inside or outside the warehouse.
More Safety Features
Safety is foremost in the design of the new B45X-7 Series. Prominent safety features include: Anti Roll Back for preventing accidental movement of the vehicle when stopped on a slope, Automatic Speed Control that adjusts the travel speed for safer cornering, and an Operator Sensing System that immobilises the truck and locks all hydraulic functions when an operator leaves the cab.
Further important safety-enhancing design features included as standard are: a clearer view through the mast, an easily accessible emergency stop button on the dashboard, a high visibility driver's safety belt, large entry step and grab handle for easy access, LED lights and an overhead guard mounted flashing beacon.
Stronger Ergonomics
The sleek looks of the new B45X-7 Series are combined with sound ergonomics – taking safety, driver comfort, ease of maintenance and productivity fully into account.
The cab is designed for operator comfort and to reduce fatigue, with a fully adjustable premium Grammer suspension seat as standard, and excellent all-round visibility for safer manoeuvring with greater awareness. Other features are, an adjustable steering column, an easy and intuitive instrument panel and plenty of leg room.
Easier Maintenance
The new design takes ease of maintenance into account too, with improved accessibility to the controller and electric components, a tool-less side panel for simple access to the battery and easy-view software for adjusting control parameters to the operator's wishes.
The new Doosan B45X-7 Series has everything a business needs to feel confident in making the transition to using electric powered trucks in the yard.
Brian Grady, Sales & Marketing Director, Doosan Industrial Vehicles UK, says: "Companies that are currently considering contracts on 3.5 – 5.0 tonne IC Engine trucks should at least be looking at the possibility of switching to electric powered forklifts as a way of reducing their costs, improving safety and cutting their carbon footprint – especially in light of the Euro Stage V emission regulations that have just come into effect on 1st January 2019."
He adds: "Electric trucks have come a really long way in the past few years and are now, with this series, a highly viable alternative to IC Engine trucks for most applications."
More on Doosan's powerful new B45X-7 Series at https://doosanflt.com/b45x-7-electric-forklifts/