Supply Chain (SCM/SCE)
Supply Chain Management (SCM) Software, Supply Chain Optimisation, Supply Chain Execution, hardware transport, supply-chain, distribution software, freight software and load planning in manufacturing and supply chain applications.
JDA Launches Luminate Control Tower – "Digital Nerve Center"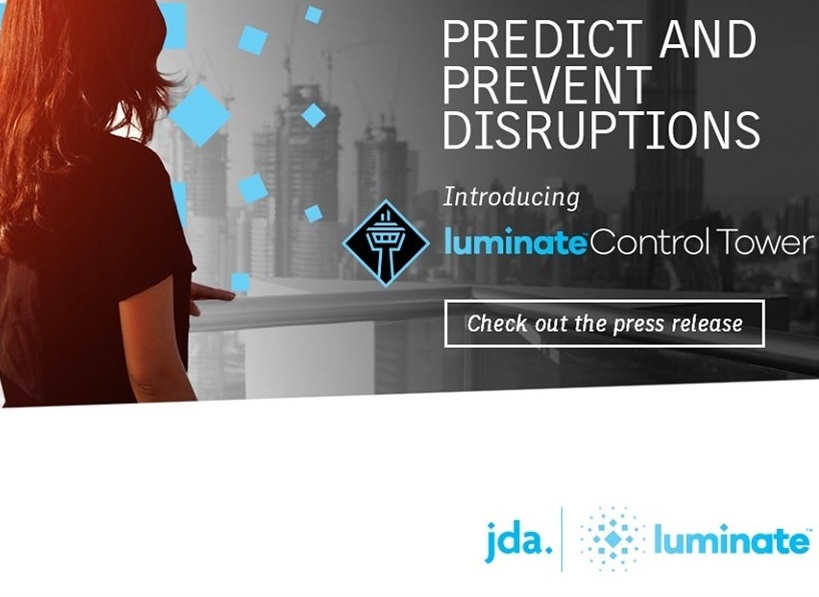 JDA Software, Inc., today announced the general availability of its flagship leading-edge technology – JDA® LuminateTM Control Tower – a Software-as-a-Service (SaaS) solution that serves as an end-to-end crisis control center allowing companies to see, interpret, and act on real-time information from the entire supply chain and extended third-party digital ecosystem. This allows companies to sense unexpected events across their cross-enterprise supply chains, identify the potential impact of actual and potential disruptions or demand changes, and prescribing recommended corrective action with machine learning (ML)-based guidance.
Electrolux, a leading global appliance company, is the first customer to go live on JDA Luminate Control Tower, in an impressive five months. Electrolux plans to roll-out the solution globally throughout 2019 to tap into the solution's powerful predictive and prescriptive capabilities.
"We are pleased with how quickly we were able to pilot JDA Luminate Control Tower as a part of our digital supply chain strategy," said Johan Martinsson, Global IT Digital Operations Lead at Electrolux. "Being able to have full visibility of our supply chain, as well as prescriptive and predictive recommendations that alerts us to any potential disruption will help us to ensuring a smooth, agile and responsive supply chain."

JDA Luminate Control Tower powers the "crisis control center" for today's global supply chains
Microsoft Azure-based JDA Luminate Control Tower uniquely provides three key capabilities to power the crisis control center for today's global supply chains – real-time visibility across the digital partner ecosystem, a collaborative and connected platform, and prescriptive recommendations – supporting more intelligent scenario planning and profitable responses, leading to improved service, increased revenue and lower cost to serve. JDA Luminate Control Tower conducts what-if analysis for different resolution options, then recommends or executes optimal courses of action that balance short-term demands with long-term strategic goals.
JDA Luminate Control Tower is the only solution in the market that consumes internal and external digital signals – such as social media, news, events, weather and IoT – from the digital ecosystem, including distributors, suppliers and partners. By capturing and analyzing data feeds from the digital edge, companies will gain a greater understanding of consumer sentiment, supply conditions, demand insights and any correlation to demand fluctuations. These capabilities enable planners to predict the estimated time of arrival (ETA) for deliveries based on real-time updates on weather, traffic, congestion, etc., as well as identify accurate inventory positions based on delivery ETAs.
JDA named a leader in Nucleus Research Control Tower Matrix report
As further validation, Nucleus Research recently named JDA a leader in its 'Control Tower Technology Value Matrix 2018' report, published in November, noting 'JDA's strategic goal is to deliver an autonomous supply chain that relies on visibility as its foundation but adds predictive and prescriptive analytics as well as leveraging context-sensitive self-learning capabilities that help orchestrate the supply chain from end-to-end…Nucleus expects JDA to further push the boundaries on the visibility and control that customers can realize.'
"We are proud to officially unveil JDA Luminate Control Tower as the flagship technology that underscores our Luminate portfolio, a solution we have brought to market over the last year, working closely with select key customers for proof-of-concept deployments that are reaping benefits such as increased planner efficiency by as much as 60 percent and reduced logistics expenses by up to 30 percent," said Desikan Madhavanur, chief development officer, JDA. "JDA Luminate Control Tower is a powerful, innovative nerve center that will change the game for our customers, leveraging ML to predict and combat future supply chain disruptions for the first time." 
JDA Luminate Control Tower anchors the JDA® LuminateTM family of solutions, which extends and enhances JDA's product portfolio, and is built on a cognitive, real-time, connected platform that embraces digital-edge technologies such as SaaS, the Internet of Things (IoT), artificial intelligence, advanced analytics and cross-platform integration. Learn more here.