Food/Beverage
Software applications that streamline and automate business processes throughout the supply chain to improve planning, optimise inventory levels, reduce costs, and respond quickly to changes in customer and supplier demand.
Just Ahead of Winter Fancy Food Show, SYSPRO Again Named in Food Logistics' 2018 FL100+ Top Software and Technology Providers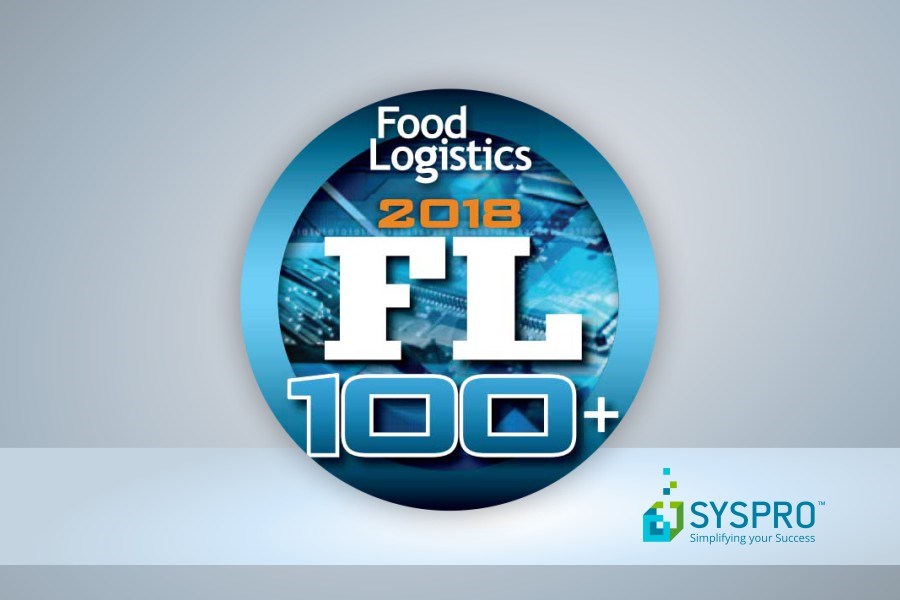 SYSPRO, a global provider of industry-built enterprise resource planning (ERP) software, has been named in the 2018 FL100+ Top Software and Technology Providers list by Food Logistics—the only publication exclusively dedicated to covering the movement of product through the global food supply chain.
This distinction, honoring leading software and technology providers that help food and beverage companies improve productivity and gain efficiencies, was awarded as SYSPRO gears up to attend the Winter Fancy Food Show in booth #6436, held by the Specialty Food Association, January 13-15, 2019, in San Francisco, California.
This marks the fifth year in a row that SYSPRO has been named as a top software and technology provider by Food Logistics, past recognition has also included 'Top Green Provider' for exemplary leadership in enhancing sustainability within the food and beverage industry.
For 40 years, SYSPRO has been passionate about bringing simplicity and innovation, in partnering with food and beverage companies. The SYSPRO solution offers powerful capabilities, such as lot traceability, end-to-end product visibility, inventory management, and quality assurance, to help food and beverage companies solve their biggest supply chain challenges.
Perrone & Sons, a wholesale high-end gourmet food business, used SYSPRO to reduce inventory by at least 25 percent, and spur double-digit growth. "The software has really increased the possibilities of what we can do. We no longer have to spend months training our new employees, as they are becoming proficient with SYSPRO in a week or less. The customization tools have made the need to memorize stock codes a thing of the past," said John Perrone III, Information Technology Manager, Perrone & Sons. He notes that one of the most important features SYSPRO ERP brings to his company is the SYSPRO Espresso mobile application. "This tool will really become a game changer for us. It will have the same effect of doubling our office staff without actually hiring any additional staff and totally enable our salespeople in the field to become self-reliant—greatly easing the workload on our current office staff," Perrone said.
As an FDA-regulated company, Ohio-based Gorant Chocolatier chose to implement SYSPRO because of its lot traceability module (giving Gorant the ability to track the history and future of every ingredient coming into their facility) and its reputation for fast, effective implementation.
Since implementing SYSPRO, Gorant Chocolatier has seen a multitude of benefits from having an integrated software program. "SYSPRO has been very positive for us. It gave us a manufacturing system we never had before, which has allowed us to control costs better and manage our inventories better. Now, we only buy what we need to buy and make what we need to make," says Mary Ann Yerage, Purchasing Manager, Gorant Chocolatier.
It's this kind of simple, powerful, technology-focused approach that helped SYSPRO earn recognition, and will be demonstrated at the Fancy Food Show. In between tasting and testing, specialty food leaders will be considering the benefits of partnering with an ERP company that understands their business as well as they do.