Mobile Computing
Mobile Computers, Handheld, Rugged, Wireless (Wi-Fi), GSM and GPRS enabled PDAs and Industrial Computers.
Panasonic Introduces a Stylish New 7" Android™ Rugged Tablet Ideal for Customer-Facing Mobile Workers
Panasonic today announced its latest rugged Android tablet for customer-facing mobile workers that need a versatile and cost-effective device. The Panasonic TOUGHBOOK FZ-L1 tablet, with its 7 inch display and optional bar code reader, is suitable for a wide range of roles in industries such as retail and hospitality, manufacturing, transportation and logistics. In the […]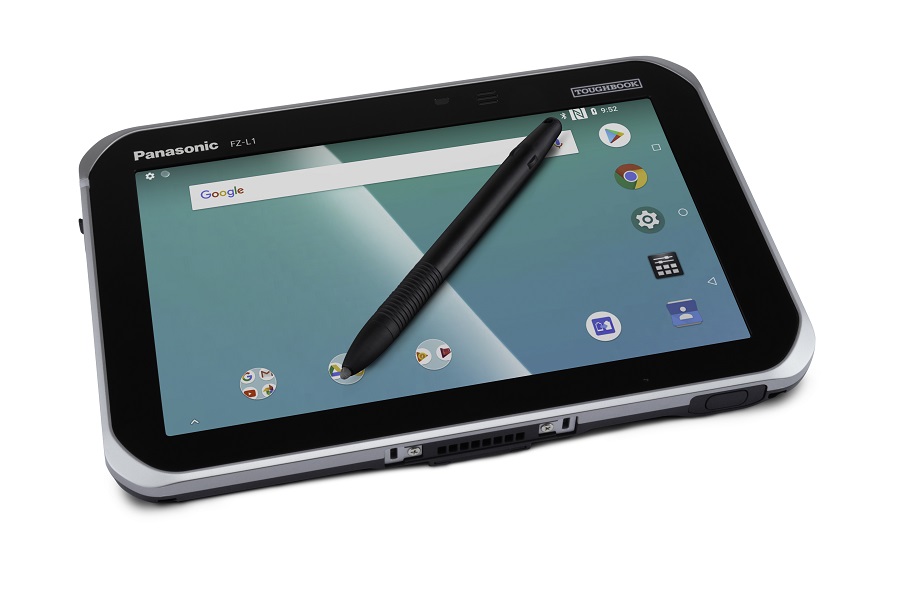 Panasonic today announced its latest rugged Android tablet for customer-facing mobile workers that need a versatile and cost-effective device. The Panasonic TOUGHBOOK FZ-L1 tablet, with its 7 inch display and optional bar code reader, is suitable for a wide range of roles in industries such as retail and hospitality, manufacturing, transportation and logistics.
In the retail and hospitality sector, the Panasonic TOUGHBOOK FZ-L1 tablet is ideal for realtime ordering, inventory checking and goods location; in the logistics business the device is well suited to job routing, navigation, inventory management and proof of delivery; and in the warehouse it's great for tasks such as pick-up confirmation, operation management and goods identification.
Available as WI-FI only for inside workers or with optional voice and data capability for field-based workers, the Panasonic TOUGHBOOK FZ-L1 tablet with integrated barcode reader is slim and lightweight, weighing in at around 480g, but rugged enough to stand up to business needs. The powerful yet energy efficient device is built on the Qualcomm® Snapdragon™ mobile platform to ensure longterm Android support. A rich ecosystem of management tools and peripherals are available at launch to ensure the device can be tailored to meet the needs of the mobile workforce and the technology administrators.
"This latest Panasonic TOUGHBOOK tablet is another important addition to our growing rugged Android portfolio ," said Jan Kaempfer, General Manager of Marketing for Panasonic Computer Product Solutions."Mobile workers will love the design and ease of use of this rugged device and IT administrators will appreciate the ease of management, functionality and attractive total cost of ownership." 
Eight model variants 
The Panasonic TOUGHBOOK FZ-L1 tablet will be available in eight model variants: With or without an integrated enterprise-class, straightline barcode reader for scanning 1D, 2D or QR codes; with a choice of Wi-Fi only or Wi-Fi and 4G and data capabilities, and/or Google Mobile Services.
Powerful yet energy efficient 
Built for the needs of the modern mobile worker, this high performance device has the Android 8.1 OreoTM operating system, with future update to Android 9 supported. A Qualcomm Snapdragon quad-core 1.1GHz CPU provides performance with energy efficiency, alongside 16GB Flash and 2GB Ram storage. The device delivers full shift battery life with warm swap capabilities, allowing the user to switch their own batteries without interrupting work, and an extended battery option.
Tough enough 
The Panasonic FZ-L1 tablet is easy to use but remains true to its TOUGHBOOK heritage designed for military standard 810G, dust and water resistant to IP67 and is capable of withstanding drops of up to 1.5m, and operating within a temperature range of -10 to +50C.
Easy Viewing 
With an easy viewing 7" display, the Panasonic TOUGHBOOK FZ-L1 tablet has 10-finger input, display protection film, is capable of operating in the rain or can be used with gloved hands or an optional passive pen. It also has an 8 Megapixel rear camera for easy document capture.
Wide range of accessories 
As expected with a multi-purpose device, the Panasonic TOUGHBOOK FZ-L1 tablet comes with a wide ecosystem of available accessories at launch to match the needs of different mobile workforces including cradles, holster belts, battery packs, passive stylus pens and protective display films, as well as single and multiple chargers.
Management and Security 
For ease of management and security, the device is compliant with Panasonic COMPASS (Complete Android Security and Services) 2.0. Panasonic COMPASS offers everything businesses need to securely deploy and manage their Panasonic rugged Android devices. It is designed to take advantage of the flexibility offered by an Android operating system with the reassurance that Panasonic's devices are business-ready for applications, management and security.
The Panasonic devices can also come with Google Mobile Services (GMS), a collection of Google applications and APIs that help support functionality across devices. These apps work together seamlessly to ensure that the device provides a great user experience right out of the box.
Pricing and availability 
The Panasonic TOUGHBOOK FZ-L1 tablet with Wi-Fi capability will be priced at £1,049 RRP plus VAT, and the 4G and data version will be priced at £1,130 RRP plus VAT. Both devices will be available Europe-wide in the autumn and come with a standard 3 year warranty.
About Panasonic System Communications Company Europe (PSCEU) 
Our quest is to make technology work invisibly together and free businesses to succeed. We believe technology should just work. That businesses will succeed if they can simply focus on their customers, in the knowledge that all the technologies delivering their capabilities work together. That is why we are dedicated to developing products and solutions that are so integrated with our customer's way of working, that they are almost invisible – the workhorse in the background that powers business success.
PSCEU is made up of six product categories:
Broadcast & ProAV gives you the freedom to tell the story with its high quality products and solutions, which ensure smooth operation and excellent cost-performance across a range of remote cameras, switchers, studio cameras and ENG P2HD. The cinema camera range of VariCam models and the EVA1 are capable of true 4K and High Dynamic Range (HDR) making them the ideal solution for cinema, television, documentary and live event production.
Communication Solutions offers world leading telephony systems, SIP terminal devices and professional 'network' scanners giving you the freedom to focus on the communication and not the connection.
Computer Product Solutions help mobile workers improve productivity with its range of Toughbook rugged notebooks, business tablets, handhelds and electronic point of sales (EPOS) systems. As European market leaders, Panasonic had a 57% revenue share of sales of rugged and durable notebooks and tablets in 2017 (VDC Research, March 2018).
Industrial Medical Vision manufactures applications for various segments such as medical, life science, ProAV or industrial. The product portfolio includes complete and OEM camera systems, providing the freedom to see what can't be seen.
Security Solutions, built on a heritage of providing evidential quality CCTV footage. Delivering the highest image quality in all environmental conditions using our highly reliable, advanced technology cameras and image recording systems, giving you the freedom to feel secure.
Visual System Solutions offers the widest range of professional displays and projectors and allows Audio Visual professionals the freedom to create. It leads the European high brightness projector market with a 39% market revenue share (Futuresource >5klm FY17 Q3, excl. 4K & digital cinema).