Supply Chain (SCM/SCE)
Supply Chain Management (SCM) Software, Supply Chain Optimisation, Supply Chain Execution, hardware transport, supply-chain, distribution software, freight software and load planning in manufacturing and supply chain applications.
Renovotec launches Industry First Multi-Vendor Innovation Centre for the Supply Chain

Richard Gilliard, Managing Director, Renovotec (pictured left)
& Ryan Wilby, Engineering Manager at ASDA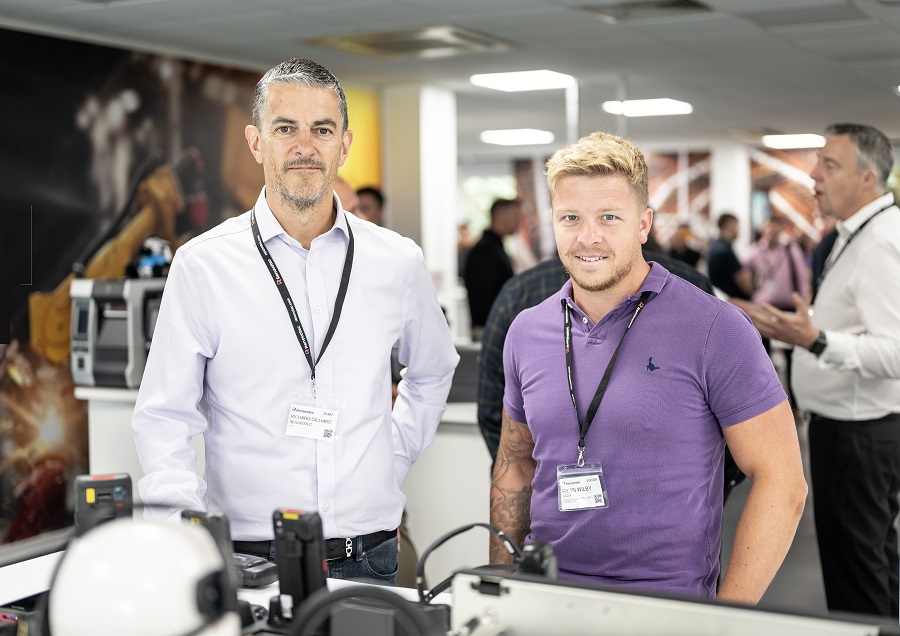 Renovotec, the UK's fastest growing provider of end-to-end AIDC technology solutions and services for organisations operating throughout the supply chain launches its Renovotec Innovation Centre (RIC) at its 6,288 sq. ft purpose-designed facility, based at the head office in Newton-Le-Willows, near Warrington.
Open to all customers and visitors, the Innovation Centre is the showpiece of Renovotec's latest and most dynamic and interactive solutions for organisations operating throughout the supply chain, and features dedicated industry zones for manufacturing, warehousing, transport & logistics, healthcare and retail.
Richard Gilliard, Managing Director at Renovotec says: "The Renovotec Innovation Centre (RIC) is so much more than a demonstration space – it's a tool for brainstorming, visualising and strategy planning. Customers can experience first-hand how our solutions can give real-time visibility into industry-specific business challenges. The RIC acts as a sector-wide business transformation hub to learn how to most effectively manage people and assets, improve efficiencies and profitability and revolutionise supply-chain business operations."
Ryan Wilby, Engineering Manager at ASDA, a Renovotec customer attending the RIC launch event today comments: "The Renovotec Innovation Centre offers us the opportunity to interactively review a range of products from the latest and the greatest manufacturers in the marketplace in one space. This is truly unique and a huge value-add service from Renovotec. It saves us time, resources, and arms us with the most thorough and in-depth insight into the productivity and efficiency benefits of new mobile device technology, and alternative tools for our frontline. It essentially enables us to quickly consolidate and upscale our technology for maximum ROI – so we can deliver on our promise to our customers to keep our prices as low as possible."
In conjunction with its key partners including Zebra Technologies, Honeywell, Datalogic and SOTI cutting edge technology is being showcased at the event across all the industry zones.
In the manufacturing zone demos will include robots showing off their skills for picking, fetching, and walking, forklift trucks scanning pallets using wireless technology (Zebra Wireless FS40 Fixed Industrial Scanners) and a deep-learning optical character recognition (OCR) solution automatically checking LOT numbers, batch code and serial numbers (Zebra Aurora Deep Learning OCR).
For managing the mobile workforce, the only platform offering complete control and visibility into every mobile device in the field will orchestrate how to reduce costs, complexity and downtime of mobile operations (SOTI ONE), alongside smart intelligent charging cabinets for enterprise handheld devices (Signals 51T).
For retail predictive AI will take centre stage with grocery self-service scanners in action that can identify objects in addition to barcodes and removes the need for search screens. (Datalogic Magellan 9800i).
In the healthcare zone a prescription demo combines state-of-the-art full touch PDA technology and megapixel scanner (Datalogic Memor 10 and Brother QL-820NWB).
For the warehouse or DC, there will be a showcase of tablets and rugged hardware to capture the essence of the best and latest technologies for the supply chain and Renovotec's ecosystem of partners featuring Honeywell, Zebra, Advantech, Newland, Handheld and Getac.
Synergy Logistics, a Renovotec partner for 15 years delivering ruggedised hardware, printers and value-added devices for warehouse and logistics environments is supporting the RIC launch today. Anish Mackan, Chief Technical Officer at Synergy Logistics infuses: "The RIC is the one and only multi-vendor, multi-technology innovation centre in the marketplace, allowing customers to visualise what's available now and get insight into what's coming soon from several hardware and technology solution providers to drive efficiency and value within their business. With rising costs and labour shortages, it's becoming difficult for supply chain vendors to absorb these escalating costs. Choosing the right automation platform and a WMS capable of managing multi-orchestration platforms and solutions is vital."