Transport Management
Transport Management and Technology, Distribution Management, Freight, Vehicle Routing & Scheduling Software and Load Planning.
Sovereign Speed enters cool sector with Krone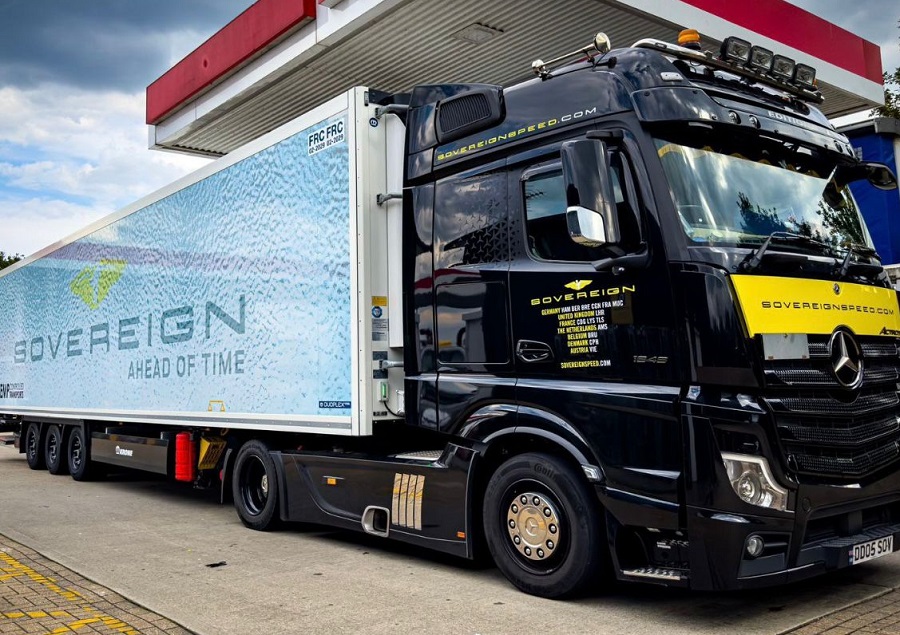 Sovereign Speed, the independent and neutral logistics provider, who operates an express scheduled ground network exclusively for transport and logistics companies, has diversified into the temperature-controlled transport sector with the acquisition of a high specification multi-temp' Cool Liner trailer from Krone.
Formed in 1998 and headquartered in Hamburg Germany, Sovereign Speed is renowned as a 'high-speed' freight mover and operates from 7 countries with over 100 overnight connections throughout the UK & Europe, using a range of express handling services for general and time-sensitive freight.
The Cool Liner is equipped to carry most perishable goods, and says Sovereign, is suitable for pharmaceutical products. Accordingly, the high volume 'Mega' fridge trailer comes with twin evaporators and Krone's KSC Pro-plus telematics system.
"Real time monitoring and precise temperature control is vital for the correct handling of all temperature sensitive products, especially pharmaceuticals – a sector which we are now able to serve," says Ellis Blackham, Business Development Manager. "With Krone's telematics, we have remote real-time information regarding the load temperature, at every stage of the journey."
Plus, Ellis explains, the telematics system monitors and records general data such as door openings, brake status, fridge fuel level and coupling status – which enables immediate corrective action if needed.
"This sophisticated level of performance control allows us to guarantee efficient load protection for customers throughout the cold chain."
With an internal clearance of 2.8m and designed for ferry operation, the Cool Liner has a 980 mm fifth wheel height, for 4m EU operation and couples to tractors with a 1150mm ride height for the UK. A two-tonne capacity, retractable tail lift is also fitted.
"This flexibility means we can service routes anywhere in the UK, Ireland and Europe," says Ellis. "We now run a dedicated Ireland service and operate within T2 transit procedures (whereby goods maintain EU customs status) and where needed, can connect from key airports with 16 Sovereign Speed stations in Europe, including Ireland and the Nordic states."
Sustainability is also a key consideration for Sovereign Speed, and the 'environmentally aware' manufacturing processes employed by Krone, fit well with the company's own carbon-neutral strategy.
"We pursue an ongoing sustainability programme," explains Ellis. 'Our Way to Zero' is a long-term corporate strategy aimed at achieving zero emissions logistics and we are conscious of the contribution that manufacturer suppliers can make. In this regard, we have always been impressed by Krone's use of energy-efficient manufacturing and sustainable technology."
A nod in this direction adds Ellis, is the option to retrofit a roof-mounted solar power system for keeping the batteries charged when the trailer is disconnected from the tractor.
"This is our first venture into the temperature-controlled sector," says Ellis Blackham, "but we also use a number of other Krone trailers for ambient work.  Their team is expert when it comes to recommending the right equipment for the job and in our view, their trailer technology is second to none."
Sovereign Speed UK is based in Slough. The Sovereign Group operates 500 vehicle units, employs 850 people and uses approximately 50,000 sqm of handling and storage space. The company also provides air cargo handling, airport terminal logistics with mobile acceptance X-Ray checks and customs clearance.