Print & Label
RFID label, Thermal Transfer Label and Barcode Printers, Star Ticket Printers, barcode generation software, POS Printers and Networked Thermal Printers, including mobile labelling technology and mobile printer applications.
Brother to Showcase Key Alliances and Retail Solutions Built to Deliver In-Store and Warehouse Efficiencies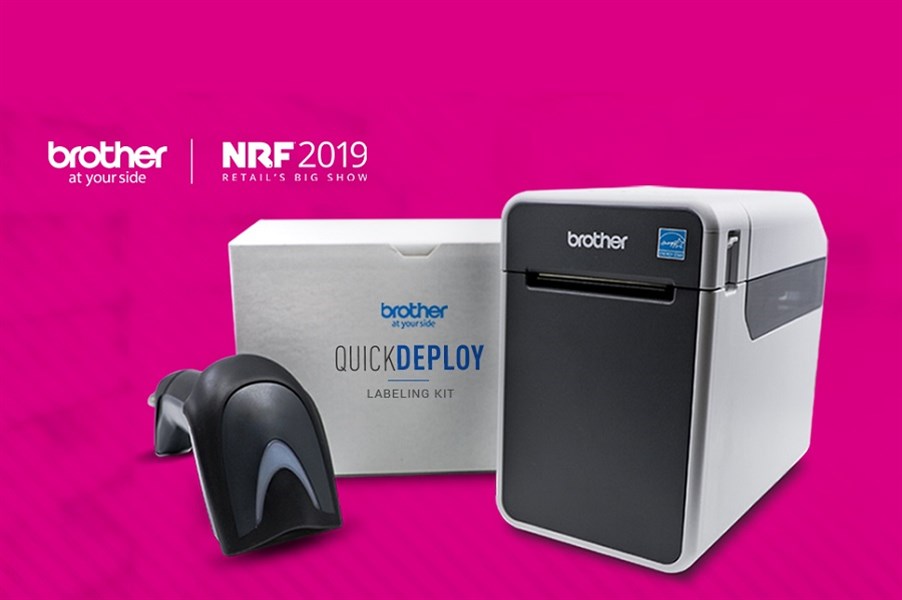 Brother Mobile Solutions, an award-winning provider of mobile and desktop printers will spotlight key alliances and a robust portfolio of retail solutions built to deliver top efficiencies in-store and in the warehouse at the National Retail Federation's Big Show NRF19, Jan 13-15, 2019 in NYC.
Brother's NRF19 Theme – 'Built for Real Work' in Retail 
NRF is the premier event in retail. The show draws an expected 50K+ retailers seeking to explore technologies that help improve the shopping experience, boost profits and streamline operations. Supporting the Brother theme 'Built for Real Work in Retail', Brother Mobile Solutions (BMS) along with Brother Business Machines Group (BMG) will be at the show to demonstrate the widest array yet of high-performance, quick-deploy printing and labeling solutions engineered to serve the needs of today's evolving retailer.
Powerful Partnerships – Delivering Retail Value 
BMS will address key partnerships and joint go-to-market solutions that help enable retailers to work faster, smarter and more efficiently. The company's leadership team will discuss an important new alliance with SOTI, which will leverage its industry leading enterprise mobility and IoT management technology. This alliance helps position Brother one step closer to offering the widest array of enterprise mobility options across its suite of mobile printers.
In addition, Brother will highlight turnkey solutions developed with partner Datalogic, a leader in automatic data capture and world-class producer of bar code readers. These powerful all-in-one solution kits bundle Datalogic scanners with Brother mobile printers for rapid implementation of emerging on-demand labeling needs in chain and convenience stores, retail warehouses, fresh food and grocery formats – and more.
Label Printing for Retail Made Easy 
Brother's NRF19 line-up includes real-world examples of solutions that are now in play and delivering measurable value:
Quick Deploy Labeling Kits with virtually everything retailers need to create and print high quality, professional labels in one convenient box. These popular new solutions are built with feedback from retail professionals and designed for in-store operations or the warehouse.
Stand Alone & Turn Key – Revolutionary new inventory control labeling solutions combine state-of-the-art barcode scanner and thermal printer preconfigured for easy set-up.
No Fuss Implementation – Quick-deploy kits require no need for POS, ERP or price book interfaces.
Ready, Set, Print Capability – Sales associates or warehouse workers simply load SKU, UPC or menu item files directly into printer storage from a mobile device or desktop, connect a scanner via USB or Bluetooth® technology and start scanning—in a fraction of the time and at a fraction of the cost of a traditional printer.
Mobile Retail Solutions to Enhance Operations & Shopping Experiences 
Brother's NRF mobile printing portfolio will also feature:
Compact and highly-connected Brother RuggedJet printers that are refining mobility by enabling reliable printing of labels, tags and receipts from handhelds, tablets and smartphones.
The easy-to-use wireless mobile printers are designed to take the inevitable bumps, drops, and mishaps that happen in busy retail stores.
A key new addition to the RuggedJet portfolio is the RJ4250WBL featuring Mobile Deploy device management, Android™ integration, dual radio Wi-Fi/Bluetooth, Apple® AirPrint® and Apple MFi Bluetooth.
According to Ravi Panjwani, Vice President of Marketing and Product Management for Brother Mobile Solutions, "We are working with all types of retailers – from specialty apparel stores, to large chains, to convenience stores and foodservice and retail warehouse operations – and they've told us smart, easy-to-deploy technology is essential to improving operations, customer experiences and profits. Retailers want answers to today's challenges – and Brother has delivered. Our solutions provide big benefits in tracking inventory, ensuring food safety, streamlining order processing, reducing shrinkage and boosting productivity in the warehouse."