Transport Management
Transport Management and Technology, Distribution Management, Freight, Vehicle Routing & Scheduling Software and Load Planning.
SENIOR APPOINTMENT IN FRANCE SIGNALS MICROLISE CONTINENTAL EXPANSION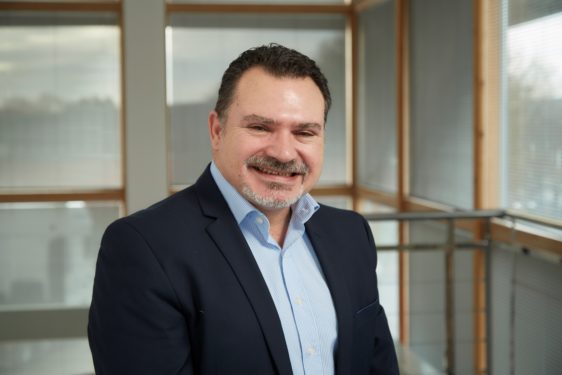 Microlise, one of Europe's largest telematics companies, has appointed former technology entrepreneur Frederic Solari (pictured) as its new Director of Sales in France.
Frederic Solari co-founded telematics company Softrack in 2002, going on to develop a tracking tool for retail groups like Casino and Carrefour. The company's technology was ultimately installed in thousands of vehicles and to hundreds of hauliers in France.
In 2011 Softrack was acquired by rival Masternaut and Frederic was appointed as Regional Sales Manager. He's now taken up a senior position in the Microlise business development team to spearhead a new direct sales approach for the company in France.
"The telematics industry can no longer focus only on the sale of hardware and technology and must refocus on delivering value by boosting productivity, safety, security, communications, fuel savings, end-user services and return on investment," said Frederic Solari. "All the companies I meet want to increase their operational efficiency as well as their commercial abilities to offer new and better services to their customers. That's why I am excited to be joining Microlise, which has a very strong and complete end-to-end solution as well as a proven track record."
A pioneer of telematics technology, Microlise has been delivering enterprise grade solutions in the UK and worldwide since 1999. It now counts 13 of the UK's 15 largest retailers as customers, as well as DAF Trucks UK, MAN Truck & Bus UK, Tata Motors in India and JCB worldwide. With an 80% market share in the UK grocery supply chain it also works with tier one transport service providers like DHL and Eddie Stobart to embed efficiency through the use of technology.
The company's telematics, journey management and proof of delivery solutions help fleets to reduce the cost and environmental impact of their fleet operations while delivering the best possible customer experience.
"We see France as a cornerstone market in Europe," said Nadeem Raza, Microlise Chief Executive Officer. "We are changing our approach and building an in-country team with Frederic as the central facet of this. While competition is fierce and many major companies are already equipped with a telematics solution, we believe our product offers great value to a huge renewal market. With Frederic's expertise we're confident we can offer something fresh for logistics providers, retailers and supply chain actors in France and across wider continental Europe."
Microlise's product also includes its own vehicle camera solution and a driver coaching system to encourage drivers to proactively adopt a safer and more economical style on the road. The outcome is a safer fleet with lower fuel bills and fewer greenhouse emissions.
"With hundreds of thousands of trucks, trailers and buses, France represents one of the largest European markets and in the coming years it will become Microlise's entry point in continental Europe and one of its main growth centres. I'm happy to be part of it," added Frederic Solari.
Microlise will be exhibiting at France's premiere logistics event, Congrès FNTR, taking place on 16 October 2018 in Paris. To find out more visit the Microlise stand.