Automotive
Automotive industry software which improves design, development, production, testing and sale of motor vehicles and related parts and equipment.
Tyre specialist aligns with AES UK to reduce wear & save fuel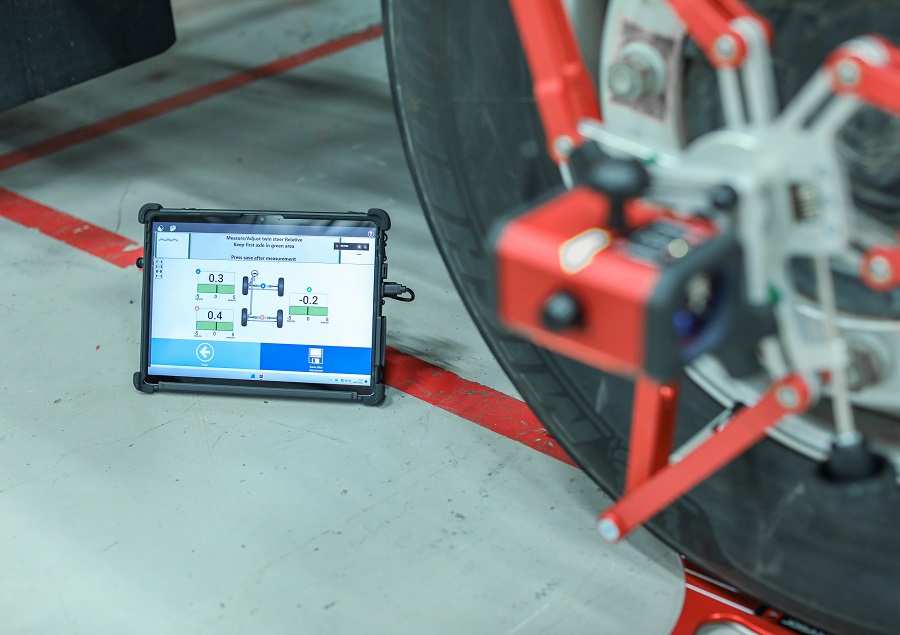 Kent-based auto services and tyre supplier A2 Tyres is using a digital wheel alignment system to rectify axle and wheel misalignment with greater speed and accuracy while reducing tyre wear, improving safety, and saving fuel.
Operating from 4 retail sites in the southeast, 3 for retail and vans and one for commercial vehicles, A2 Tyres switched from using a basic wheel alignment system to a Josam Cam-aligner upgrade kit, after receiving a demo from Josam's exclusive distributor, AES UK (Automotive Equipment Supplies).
"During the demo, it was plain to see that the Cam-aligner would immediately take our service capability to a higher level" says Director, Robert Lorton. "We purchased the system in 2021 and moved from a relatively slow and less precise solution to carrying out around 20 fast and accurate checks every month – both from our workshop and in the field, using our 17-strong van fleet."
Robert explains further that the compact digital Cam-aligner was supplied with a hydraulic ball joint splitter and trackbar hammer, making adjustments easier and quicker.  Also magnetic wheel adapters and spider wheel adapters to cover all types of commercial vehicles and wheel types.
"All the readings and data are captured on a laptop and easy to understand," adds Robert. "Plus, we can produce instant reports and confirmation of any corrective action. The right tyre set-up improves fuel economy, extends tyre life and increases driving comfort and safety – benefits which are widely reported by our long-standing customers."
A2 Tyres also stress the importance of carrying out regular wheel checks and advise operators to guard against only attending to wheel alignment issues after a problem has been identified.
"Taking a 'reactive' approach will fail to prevent problems before they occur" says Robert. "Incorrect alignment results in uneven tyre wear and once started it is virtually impossible to reverse. Therefore, we schedule regular checks, including at our customers' premises, to help avoid premature tyre replacement, downtime and unnecessary cost.
"Overall, we have seen a vast improvement in the wheel alignment services we provide" adds Robert Lorton. "Plus, from day one, we have had an excellent service from AES, and they are always on the end of a phone to answer any queries."
The Cam-aligner system is recommended by OEMs such as Mercedes-Benz Truck, Bus & Van, Scania, Volvo and Renault Truck and Van.
Established in 2005, AES UK (Automotive Equipment Solutions) is the sole UK distributor of Josam products and provides commercial vehicle alignment and CV workshop equipment, along with on-site training, servicing and equipment calibration to operators throughout the UK.
More about A2 Tyres here: www.a2tyres.co.uk   AES UK here: a-e-s-uk.co.uk