Warehouse Management
Warehouse Management (WMS) Systems & Software, picking, Third party logistics, Inventory control, TMS, YMS, Cross docking, Virtual Warehouse and Web based WMS for optimal stock control in the warehouse.
Weland exhibits at Hannover Messe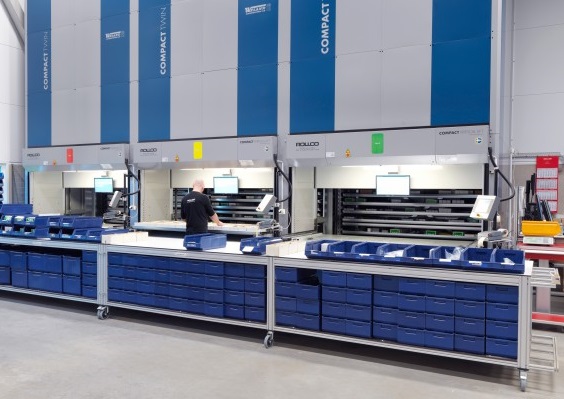 "Weland Solutions and Weland Plastic will be representing the Group together at one stand. This is an excellent opportunity to showcase our products to 220,000 visitors and thousands of other exhibitors. It's going to be exciting," says Björn Karlsson, CEO of Weland Solutions AB.
Weland Solutions is a leading supplier of solutions for warehouse management and logistics, for example, customised vertical storage lifts. It has customers in 27 countries worldwide, but this is the first time that Weland Solutions has exhibited at the Hannover Messe trade fair.
"That's right! But we'll be there this year and we're obviously aiming to establish new contacts. Our goal is to continue expanding on international markets with more dealers and distributors. We will be showcasing our full range of vertical storage lifts at the fair. These machines are some of the fastest in the world and are designed to handle the heaviest loads and weights too," says Björn Karlsson.
Weland Solutions has partnerships with international customers that include Iberia, Königsegg, Volkswagen, Rolls Royce and Jaguar Land Rover.
"Some of them, like Jaguar Land Rover and Rolls Royce, are also customers of Weland Plastic. We supply these companies with completely different products in entirely different segments. I think this perfectly illustrates the quality and strength of the Weland Group," says Björn Karlsson.
Weland Plastic is an expansive full-service company that develops and produces thermoplastic injection-moulded products. The company has exhibited at Hannover Messe before and is an established supplier to the German automotive industry today.
"A relatively large amount of our work is with German industries and the trade fair is a huge venue where we are able to meet existing customers and present our company to new business partners. Between 70 and 80 percent of our production is for the automotive industry and we are fully certified in compliance with the industry's standards. Today, we are a Tier-1 supplier to Scania, MAN and other manufacturers. The bulk of the products that we supply are technical components, like pedals and engine covers, as well as interior parts such as mouldings, dashboard details and speaker grilles," says Per-Olof Axelsson, CEO of Weland Plastic AB.
Hannover Messe
• 1 April – 5 April 2019
• 6,500 exhibitors
• 220,000 visitors
• Weland is in Hall 14, Stand L12