Transport Management
Transport Management and Technology, Distribution Management, Freight, Vehicle Routing & Scheduling Software and Load Planning.
Transtar Group Rolls Out #JolodaExpress Trailers to Transport Paper Reels & Pallets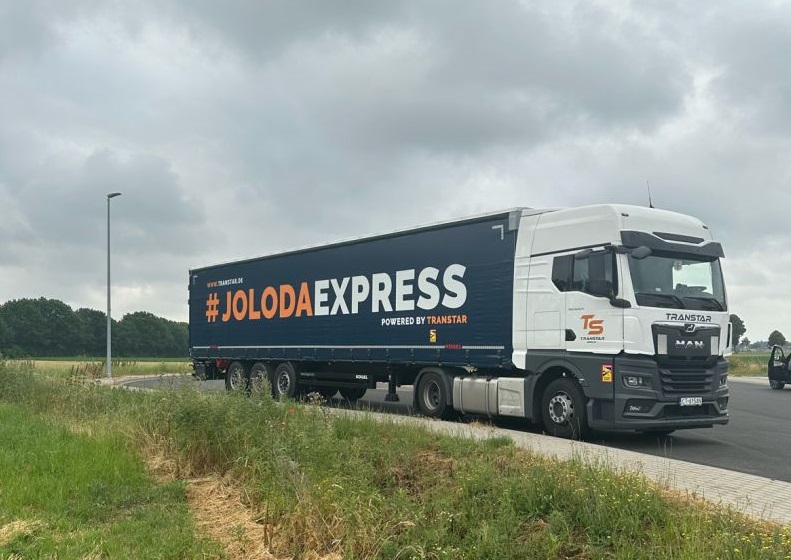 Transtar Group, a prominent German transport and logistics company, has adopted the Skate & Track system from Joloda Hydraroll, a global leader in loading solutions, to support more efficient road freight operations across Europe.
Founded in 2016, Transtar Group is a young enterprise with a dynamic growth strategy that has seen it trailblaze the European logistics landscape. The company is constantly reviewing its service portfolio for ways to support more applications and markets. This means handling a larger, more diverse range of cargo, which it must transport efficiently and securely.
One opportunity identified by Transtar Group to enhance its service offering was in the transportation of paper rolls and pallets. The company wanted to build a new trailer fleet that could streamline the loading and unloading of cargo while meeting specialised handling requirements to prevent damage.
Skate & Track
Traditional loading and unloading methods involving forklift trucks presented various drawbacks, including the risk of product damage and limitations in space utilisation. Transtar Group turned to its preferred trailer-builder manufacturer for a solution that would not only overcome these challenges but also increase overall efficiency and reduce maintenance requirements.
With over 250,000 systems in operation across more than 30 countries, the Skate & Track system from Joloda Hydraroll is recognised as the go-to solution for smooth transportation of paper reels and pallets in trailers. Transtar Group opted for a fleet of 150 trailers fitted with Joloda Hydraroll's Skate & Track system, including heavy duty skates that are capable of lifting and handling loads of up to 3.5 tonnes per pair.
To install the system, four steel tracks are fitted to each trailer, recessed longitudinally into the floor. These tracks serve as the foundation for the Skate & Track system, as they allow the skates to roll under the cargo. The skates feature a lever mechanism that lifts the cargo onto rollers, enabling easy movement along the length of the trailer. Operators can use the system to push pallets inside the truck to load or pull them towards the rear to unload.
To secure cargo to the trailer while in transit, the tracks feature strategically placed holes at floor level to accommodate system accessories such as chocks or lashing hooks.
Efficiency gains
The Skate & Track system has provided a versatile solution for Transtar Group to transport a wide range of cargo types, including pallets, slip sheets, drums, newsprint rolls, or heavy machinery. Its ability to handle cargo without forklift trucks has streamlined loading and unloading processes, reducing the amount of time truck drivers must wait and improving delivery schedules.
Eliminating the need for forklifts in the cargo space has also reduced the risk of accidents, product damage, and damage to equipment such as forklifts and trailers. The weight capacity of the heavy duty skates ensures that even the heaviest loads can be managed with ease and efficiency.
Additionally, the Skate & Track system is specially designed so that cargo can be tightly loaded together. This ensures it remains stable and secure during transport while maximising space inside the trailer, reducing the overall number of trips per truck. The system has a self-cleaning mechanism that minimises maintenance requirements and associated downtime, resulting in long-term cost savings.
#JolodaExpress
Transtar Group's decision to use Joloda Hydraroll's Skate & Track system has increased the efficiency and reliability of its service, which has improved customer satisfaction and loyalty. Very few incidents of cargo damage have earned Transtar Group a reputation for the safe and secure transportation of delicate goods.
To highlight its status as the quickest Joloda Hydraroll transport service provider in mainland Europe, Transtar Group has even branded its trailer fleet the #JolodaExpress (pictured).
Sergej Pautschkow, Managing Director, Transtar Group, commented: "Our Joloda Hydraroll trailers have proven invaluable in our pursuit to help more clients achieve their business goals. With the efficiency, reliability, and versatility of the Joloda Hydraroll Skate & Track system, we've not only optimised our logistics but also earned the trust of our clients. It's a partnership that reflects our commitment to excellence and the success of our clients' endeavours."